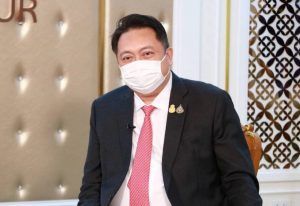 On July 30, 2021, Labour Minister Mr. Suchart Chomklin reported the progress of remedy payments to worker groups and entrepreneurs following measures to mitigate the effects of COVID-19 in the areas of the highest and strictest control, namely in the ten provinces including Bangkok, Nakhon Pathom, Nonthaburi, Pathum Thani, Samut Prakan, Samut Sakhon, Narathiwat, Pattani, Yala, and Songkhla. The measures cover nine types of business, namely construction, accommodation and food services, art activities, entertainment and recreation, and other service activities, to nine branches, with the addition of transportation and storage, wholesale and retail, automotive repair, administrative, and support activities, professional activities in science and academia, and information and communication activities. He said that Prime Minister General Prayuth Chan-ocha is concerned about the workforce and entrepreneurs who have been affected by the measures to control the COVID-19 situation and has ordered the Labour Minister to speed up the payment of remedies to insured persons not to exceed August 6. Payments will begin gradually from August 4, as the transfer system is through PromptPay, which can only process one million accounts per day. There are 2.87 million insured persons eligible to receive remedies; therefore, it will take up to 3 days to complete the transfers, within the deadline of August 6, following the Prime Minister's intentions. The following installment of remedies will gradually be transferred to employers and insured persons under Section 33 every Friday until October 29, 2021.
          The Social Security Office's Deputy Spokesperson, Ms. Ladda Sae-le, spoke about the method of paying remedies for Section 33 insured persons. The 2,500 Baht in remedies to each person from the government will be transferred to their PromptPay account using their identification number only. The employer will receive compensation from the government according to the number of employees at 3,000 Baht per head, up to a maximum of 200 employees. The remedies will be transferred via PromptPay using the ID number as well. Employers of corporate status will have remedies transferred to their bank account under the name of the employer's juristic person.
          The Social Security Office's Deputy Spokesperson continued that there is no payment schedule for insured persons under Section 39 and Section 40. Details are being prepared with the Office of the National Economic and Social Development Council to propose further to the Cabinet one more time, which will be announced later. For more information, please call the 1506 hotline, available 24 hours daily.
+++++++++++++++++++++++++++
Division of Public Relations
30 July 2021