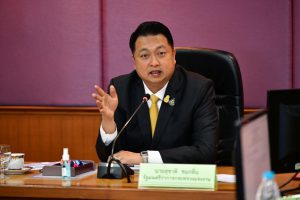 On August 14, 2021, Labour Minister Mr. Suchart Chomklin reported that the government, under the leadership of Prime Minister General Prayuth Chan-ocha, and the Ministry of Labour under the supervision of Deputy Prime Minister General Prawit Wongsuwan, have seen the hardships and are concerned for the workers and entrepreneurs who have been affected by the COVID-19 pandemic. Therefore, there are measures to remedy those affected by the "lockdown" in the dark red areas in the 13 provinces, namely Bangkok, Nakhon Pathom, Nonthaburi, Pathum Thani, Samut Prakan, Samut Sakhon, Narathiwat, Pattani, Yala, and Songkhla. Chachoengsao, Chonburi and Phra Nakhon Si Ayutthaya. The measures cover nine types of business, namely construction, accommodation and food services, art activities, entertainment and recreation, and other service activities, to nine branches, with the addition of transportation and storage, wholesale and retail, automotive repair, administrative, and support activities, professional activities in science and academia, and information and communication activities.
          Mr. Suchart gave an overview of payment of remedies to insured persons under Section 33. Unsuccessful transfers in 13 provinces amounted to 233,730 cases. From the results of the remittance on August 13, it was found that 139,401 transfers were successful, whereas 94,329 remained unsuccessful as 91,462 people did not link their accounts with PromptPay, 1,200 people closed accounts, 901 people didn't have accounts, 15 people had accounts with conditions, 73 people had incorrect account numbers and 678 accounts could not make transactions. For those who have not received money, the Social Security Office will send an identification number to the employer to inform employees whose payment has not yet been processed so that they can link their PromptPay with their ID card number. The Social Security Office will attempt the transfer every Friday.
          "The transfer of compensation to insured persons in 13 provinces and nine business types is considered a relief to the labour sector and entrepreneurs affected by COVID-19. The initiative is in line with Prime Minister and the government's intention to leave no one behind so that everyone and every group can move forward and overcome this COVID situation together," concluded Mr. Suchart.
++++++++++++++++++
Division of Public Relations
14 August 2021